Products
Find the right colors
Masterbatch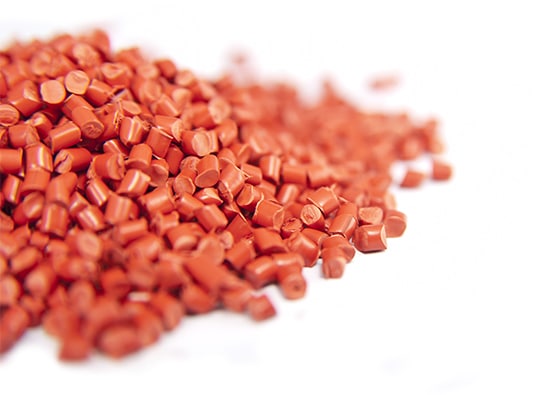 Our masterbatches are always set to the processor's basis material that is to be coloured.
It is only this approach that guarantees the excellent quality of the end products.
Our colour masterbatch can be processed cleanly and guarantees processing reliability during final processing.
Polymer-specific batches are available for various polymers such as: PE, PP, POM, PC, SAN, ABS, PC/ABS, PBT, ASA, PMMA, PA6, PA6.6, PA12, TPE, PS and many more.
Combi-Batch
In addition to the colouring, our batches can also contain various additional additives.
A possible combi-batch contains, for example, UV retardants (UV absorber and/or radical catchers) for better properties with which to withstand the influences of weather. Upon request, we also equip the batches with long-term and short-term antistatics.
A further application for the combi-batch are laser markings. Using the laser additives, various plastic materials of different colours can be labelled. Examples of marking include plastic parts for laboratory requirements, barcodes, keyboards, packagings, automobile parts, and many more.
We will be more than happy to produce a batch out of a colour and additive for you.
Colour Compounds
The production strategy in this area has excellently proven its value over the past few years, and has developed into one of Color Technik's most important business mainstays.
In this area we compound thermoplastics such as: PC, SAN, ABS, ASA, PMMA, PA6, PA6.6, PA12, TPE, POM, PS, PP and PE in accordance with the colour settings wanted by the customer.
Soft elastomers with Store A 30 or softer can be easily produced in any colour with our specialised underwater pelletizing.
High-Temperature Colour Compounds
In this area we can compound high-temperature materials at temperatures in the region of 400°C, such as: PPS, PSU, PEEK, PAEK, PAA and LCP.
Any possible masterbatch variations in this area need to be adjusted to our technology in individual cases.
Colour Compounds in Fluoropolymers
We have the possibility to produce PVDF and ETFE in almost all colours.